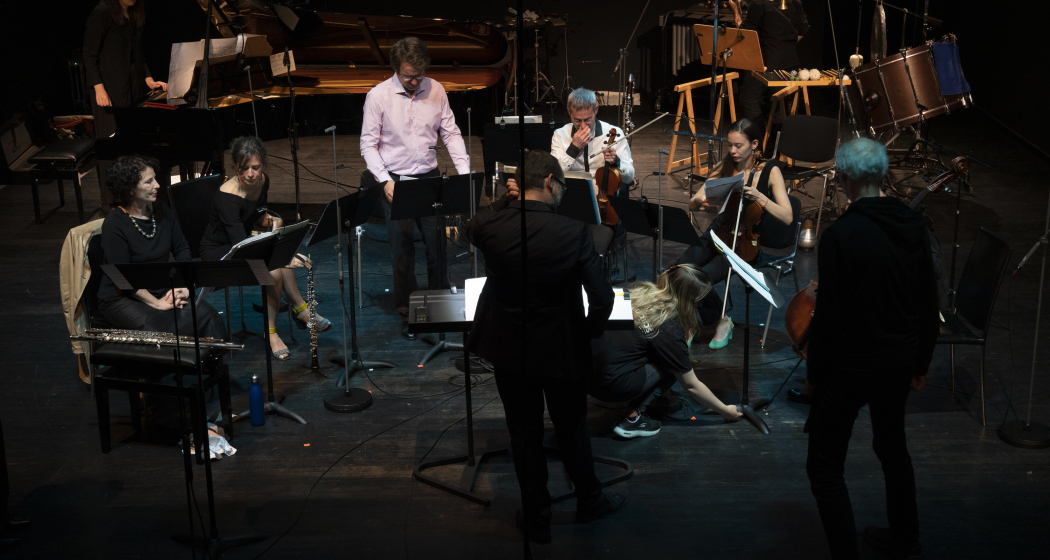 Works by E. Poppe, T. Pécou, T. Hosokawa, N. A. Huber and A. Solbiati.
Description
Date
21.01.2024 from 17:00 to 18:30 o'clock
This program addresses a problem that is very controversial in current research: what is still inorganic matter and where does organic matter, i.e. matter that can be described as "living", begin. Various disciplines, from philosophy to astrobiology, are looking for binding answers here.

To illustrate this unsolved problem, works have been compiled here that bring the animate and the inanimate to life in a musical way: be it abandoned ruins by Tristan Murail, purely geometrically abstract forms by Fabien Lévy or the very human theatrical work for tuba solo by Nikolaus A. Huber. This is also where the musical question is asked: when is music a pure sound wave and when does it begin to live?

Program:
E. Poppe (*1969): Hair (2013/14)
T. Pécou (*1965): Manoa (2005)
T. Hosokawa (*1955): Duo (1988)
N. A. Huber (*1939): Blanco y verde (2018)
A. Solbiati (*1956): Ibi, bone fabricator (2009)
Contact
Ensemble ö!
Engadinstrasse 43, 7000 Chur
Responsible for this content Ensemble ö!.
This content has been translated automatically.

This website uses content from Guidle.