At the Sports Restaurant.
Banquets and events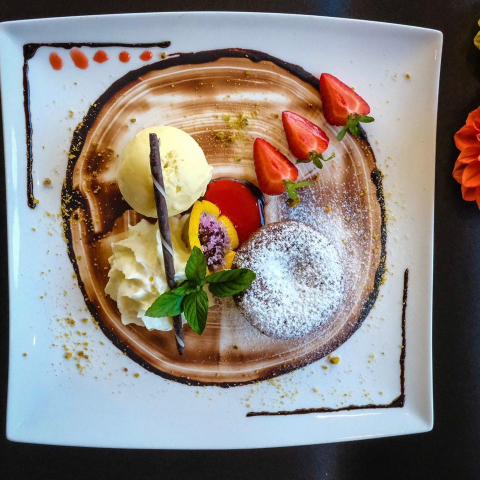 The sports restaurant has a variety of banquet and event menus on offer - discover now!
Company events and family gatherings
Whether gazpacho shot, smoked salmon tartar, warm goat cheese, strips of beef fillet, quinoa pan or blueberry cheesecake - there is a large selection for your next exquisite banquet. And for your cozy, sociable club or family event, we offer various buffets (pizza, salad, BBQ, Asia). Discover our banquet and event menus below.
Menu
Prices
Banquet
Put together your own menu based on the banquet menu and your budget (max. 3 starters and 2 main courses, rest unrestricted)
Event
Spaghetti fun CHF 20.50 per person
Sporty salad bar CHF 24.50 per person
Barbecue with salad buffet CHF 34.50 per person
Asia Buffet Obere Au CHF 41.50 per person
Children under 13 years receive a reduction of CHF 5 on the menu price.
Drinks are charged separately. Payment directly on site or by invoice.
Order
We are happy to take your order up to 48 hours prior to the event:
+41 81 284 74 52 or sportanlagen@chur.ch
Banquet
From 10 people - more than 40 people on request
Bookable daily between 12 and 8pm (during the summer holidays only from 7pm)
Event
From 15 people - more than 45 people on request
Bookable daily between 12 and 8pm (except during the summer holidays)

Final number of people required two days in advance.