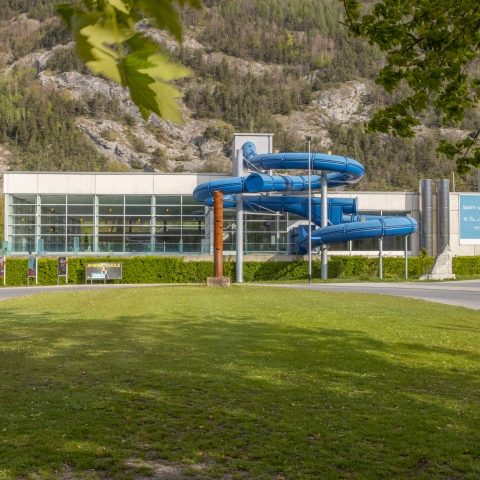 You'll get an overview of entry fees, passes and ticket types here. 
If you calculate, you're in, too!
The new pass costs only about half of a conventional gym pass. And all the other facilities are on top! Whether sports, swimming or sauna, indoors or outdoors - with «AU DABI» you can really enjoy the most varied range of sports and leisure activities in south-eastern Switzerland!
Prices
Price overview of the Chur sports and event facilities:
A distinction is made between the following price categories:
with/without ChurCard
Adults, students, children up to 16, children up to 6 years of age
Disability benefit recepients or KulturLegi-holders
Single tickets
Single tickets grant one-time admission to the sports facilities and are available via the online ticket shop, the ticket machines on site or at reception.
New: AU DABI day pass
Try everything with our "trial day pass": same services as the «AU DABI» annual pass, but only valid for one day. For only CHF 31.50 with ChurCard (without ChurCard + CHF 13.50). If you buy an «AU DABI» annual pass on the same day, the day pass will be credited.
Deposit chip wrist band CHF 20.-
Single tickets: pools are included with fitness and wellness
The single tickets for fitness, group fitness and sauna include admission to the pools. So not only do you get to enjoy fitness and wellness, but you can also swim a few lengths or relax in the warm water pool at the same time - a real added value that you won't find anywhere else!
Chur guest card
If you stay in a Chur hotel, you will receive the Chur guest card. This card gives you a single free entry to our pools: Obere Au indoor or outdoor pool or Sand outdoor pool in the city center.
Sportscard
The Sportscard (prepaid card) was replaced by the «AU DABI» pass as of 3. May 2023. Sportscards can therefore not be charged anymore.
Remaining credit of your Sportscard can be used as follows:
Use up remaining credit unchanged (still with discount on single admission prices)
Credit remaining balance towards the purchase of an «AU DABI» annual pass (at reception)
As soon as your remaining credit is used up, you have the following options:
Register in the online ticket shop and buy your tickets there. Once you are registered, the purchase is very quick. With the QR code on the online ticket you have direct access to the outdoor pools (validate the code on the reader). To get to the indoor pool, fitness or wellness area, first do a "media exchange" at the machines on site: scan the QR code from the online ticket at the machine and you will receive the chip wristband. No queuing required.
Individual tickets are also available from the machines or at the on-site reception.
Buy a pass: pool passes (all indoor and outdoor pools) or AU DABI passes (for all facilities) are available. Choose the subscription that suits you best.
Previous passes
You can

use up

your pass until it expires.

Tip:

exchange your pass chip card for a practical pass chip wrist band at reception (one-off CHF 5.-).
You can

convert your pass into an «AU DABI» pass at reception

. The remaining value of your pass will be credited to the new pass. If there is still a remaining value left after this, it will be deposited in your customer account. You can use this credit for future purchases (single tickets, passes, items in the shop).
New customers for «AU DABI» passes
New customers buy the «AU DABI» pass online in the ticket shop or at the reception desk in the sports facilities. Each customer must visit the reception desk once
to have a photo taken,

confirm the age of the children (children's and family passes),

show identification (apprentices/students, disabilty benefit recipients, KulturLegi holders, confirmation for gym) and

pick up your pass chip wrist band.
After that, you will never have to queue again and will have direct access to all facilities. All passes are personal and non-transferable.
Tip: declare the «AU DABI» pass with your health insurance company. Many health insurance companies pay a contribution.
Time stop: Pass holders can apply for a subscription interruption, the so-called "time stop". From a minimum of 1 month to a maximum of 6 months per contract year. 
Group tickets
Groups of 10 or more people can obtain single admission tickets at a reduced price. Group tickets are available at reception on site and for all facilities.
Multi-tickets
Multi-tickets are only available for the infrared cabin (CHF 68.-). They are available at reception.
Gift vouchers
Physical and digital vouchers of the sports and event facilities are accepted. The vouchers can be exchanged for tickets and items from the shop at the ticket office. 
Fitpass
With the Fitpass, you benefit from a nationwide monthly subscription with over 300 sports partners for sport, fitness, wellness and leisure. The Fitpass partner facilities can be easily used with the accompanying app and QR code. At the Chur sports and event facilities, the Fitpass is valid for the following facilities:
Indoor swimming pool
Outdoor pool Obere Au
Gym incl. indoor swimming pool 
More information and purchase: www.fitpass.ch