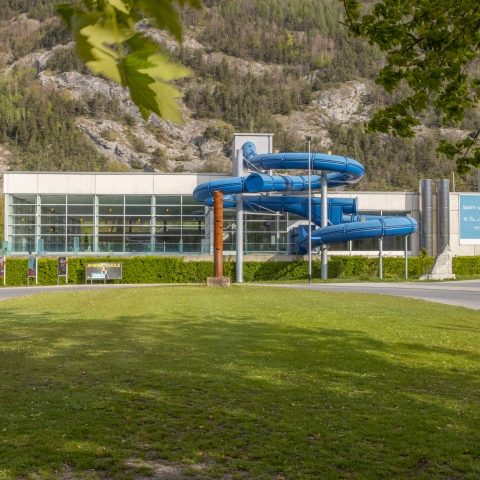 You'll get an overview of entry fees and ticket types here. 
Pools are included with fitness and wellness
The tickets for fitness, group fitness and sauna include admission to the pools. So not only do you get to enjoy fitness and wellness, but you can also swim a few lengths or relax in the warm water pool at the same time - a real added value that you won't find anywhere else!
Price classes
A distinction is made between the following price categories:
with/without ChurCard
Adults, students, children up to 15, children up to 5 years of age
Single tickets
Single tickets grant one-time admission to the sports facilities and are available via the online ticket shop (10% discount) or at the front office on site.
Sportscard
The Sportscard is a prepaid card that can be obtained at the ticket office and validated on entry to the desired facility. Single admissions with Sportscard are cheaper than regular single admissions. The Sportscard costs CHF 5.- and is loaded with a minimum amount of CHF 100.- (adults/students) or CHF 50.- (children) when purchased. The minimum amount for further recharges is: CHF 50.- (adults/students) or CHF 25.- (children). It is personal and valid for all facilities (incl. day-care and sports shop) for an unlimited period.
Passes
A distinction is made between the following passes:
Season pass: for outdoor pools and ice rinks
Annual pass: for indoor pool and Aquamarine warm water wellness pool
Combined pass: always includes all pools plus none, one or more other facilities. Available for three months, six months or a year, depending on the facility.
Club pass: for sports club members, valid in all pools.
All passes are available at the cash desk in the Obere Au indoor swimming pool and are personal, non-transferable.
Time stop: Pass holders can apply for a subscription interruption, the so-called "time stop". From a minimum of 1 month to a maximum of 6 months per contract year. 
Group tickets
Groups of 10 or more people can obtain single admission tickets at the reduced Sportscard price. Group tickets are available at the ticket office on site and for all facilities.
10-tickets
10-tickets are only available for the infrared cabin (CHF 68.-). They are available at the ticket office in the indoor pool.
Gift vouchers
Physical and digital vouchers of the sports and event facilities are accepted. The vouchers can be exchanged for tickets and items from the shop at the ticket office. 
Fitpass
With the Fitpass, you benefit from a nationwide monthly subscription with over 300 sports partners for sport, fitness, wellness and leisure. The Fitpass partner facilities can be easily used with the accompanying app and QR code. At the Chur sports and event facilities, the Fitpass is valid for the following facilities:
Indoor swimming pool
Outdoor pool Obere Au
Gym incl. indoor swimming pool 
More information and purchase: www.fitpass.ch