Event Chur
Bar hopping for singles - Chur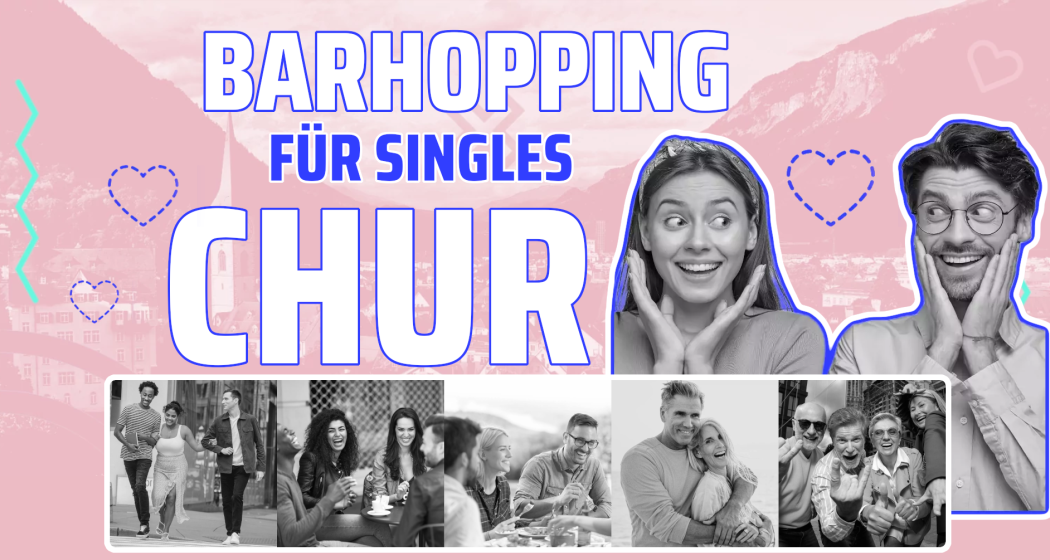 1 evening, 3 locations, 18 singles. No speed dating. Meet other singles from your area and get to know them in a casual and sociable round. Acquaintances, friendships, love.
Railway station SBB Chur
Bahnhofstrasse, 7000 Chur
Description
Date
14.04.2023 to 14.04.2023 at 19:00 o'clock
on Friday
19.05.2023 to 19.05.2023 at 19:00 o'clock
on Friday
07.07.2023 to 07.07.2023 at 19:00 o'clock
on Friday
11.08.2023 to 11.08.2023 at 19:00 o'clock
on Friday
Price
49.90 CHF
The price refers solely to the organization of the bar hopping event. Meals in the locations must be paid on site.
Ort
Railway station SBB Chur
When bar hopping for singles in Chur, you have the opportunity to get to know singles from your area outside of singles portals and dating apps.

The procedure

We provide you with a bar hopping partner or you can register with a friend. You form a team and go from one location to another. Depending on the number of participants, a team can consist of 2-3 people and each team meets at least 2 new teams per location.

Location 1
At 19:00 you meet your team in the first location and you can eat or drink together with the other singles.


Location 2
At 20:30 your team changes locations and you have your next drink with 4-6 new singles.

Location 3
At 22:00 o'clock the third change takes place and you get to know more and more singles.

Final round
At 23:00 all participants meet again for a final round. From there, the further evening is open. Go dancing, stroll through the night or visit another bar.

After the event, you can vote online who you would like to see again. During a match, your contact details will be exchanged and you can arrange a date for two.

Bar hopping for singles takes place in 12 cities. Zurich, Bern, Basel, St.Gallen, Lucerne, Winterthur, Thun, Schaffhausen, Chur, Aarau, Baden and Kreuzlingen.

Further information and dates can be found on barhopping.ch
Responsible for this content Webagentur Merz.
This content has been translated automatically.

This website uses content from Guidle.