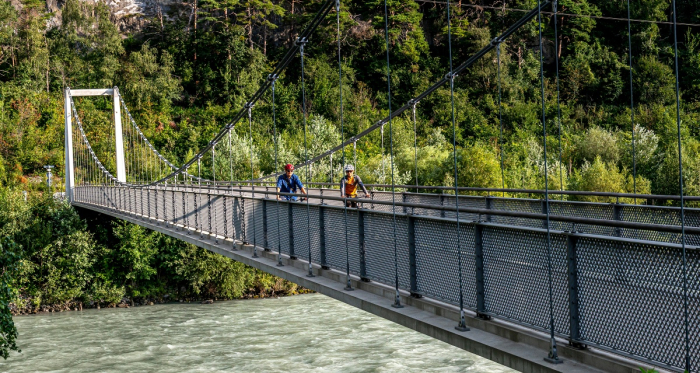 Show all 9 images
Nothing but wine and water: on this circular route, you will discover the winegrowing villages between Chur and Landquart. The return journey takes place on the popular Rhine route and along the regional rivers Landquart and Plessur.
---
Start
Chur railway station
Destination
Chur railway station
Coordinates
46.853374, 9.52996
Description
This varied loop tour begins in the middle of the Graubünden capital. But the busy city life is soon left far behind, because the route takes you on a tranquil neighbourhood road into nature. You cross the Fürstenwald, a popular local recreation area with views of the city and the Calanda. The historic Trimmiser Mittelweg then takes you through open pastures to the village of Trimmis. The route follows the "Bündner Rheintal Wine Trail" on several sections. Accordingly, it provides an insight into the local winegrowing culture. This has a long tradition as first mentions go back to the year 765. The Graubünden Rhine valley winegrowing region stretches from Bonaduz to Fläsch and covers around 420 hectares. Thanks to the mild climate and the foehn, the grapes thrive magnificently in the calcareous soils - especially the typical Blauburgunder variety.
Past the imposing, former moated castle of Marschlins, the route follows the Landquart river to the village of the same name. The Landquart has its source above Klosters, flows through the Prättigau valley and finally into the Rhine at Landquart. Here you return on the popular cycling route no. 2, the Rhine route. From Zizers, the path repeatedly follows the young Alpine Rhine. This has its source at the Oberalp pass as the Vorderrhein and at Rheinwald as the Hinterrhein. At Reichenau-Tamins, the two main arms join to form the Rhine. Switzerland's largest river flows for a total of 1230 kilometres via Lake Constance through Germany, on to Holland, and into the North Sea.
At Haldenstein, you cross to the other river bank. At the level of the town of Chur, the cycle path crosses the Rhine again on the Pardisla bridge which was built especially for cyclists and pedestrians. Shortly afterwards you reach another regional river: the Plessur has its source in the mountainous area between Arosa and Lenzerheide, flows past Arosa through the Schanfigg valley and into the Rhine at Chur. The route follows the river, and over the arched bicycle and pedestrian bridge, built in 2020, you finally dive right into the centre of Chur with its picturesque, car-free old town. Before returning to the station, you can stop at one of the numerous restaurants with sun terraces. The tour comes to a leisurely end in the unique ambience of Switzerland's oldest city.